South Florida SPCA
NEW BRAND AND WEBSITE
The South Florida SPCA was in desperate need of a complete brand overhaul. Softshell Design worked with them to create a new brand which included a fresh corporate identity and revised website. The SFSPCA can now focus on its mission: Saving Horses & Livestock Every Day. We collaborated with Iconova Design for the design & development of this project.
design & production solutions
brand update
Softshell updated the SFSPCA brand image to reflect the 'Helping Hand' they lend to animals in need of rescue, rehabilitation and love. The bold font face was kept for the 'SPCA' in order to retain recognition of the original logo.
The color palette was updated to reflect a more contemporary feel while keeping a foundational green and brown to ground the brand. The accent colors of earthy dark blue, gold and mauve can all be found amongst the animals and ranch. They serve to compliment the brand's marketing messages and give us flexibility when designing for different aspects of the non-profit organization.
The icons were created in order to help further their mission forward towards other livestock as well as horses. The corporate identity and brand needed to evolve alongside the changing obligations and responsibilities of the South Florida SPCA.
The organic and rounded elements of the website mimic the natural elements and 'circle of life' on the farm. Subtle textures create a tactile feel while candid photography gives users a glimpse of life on the ranch.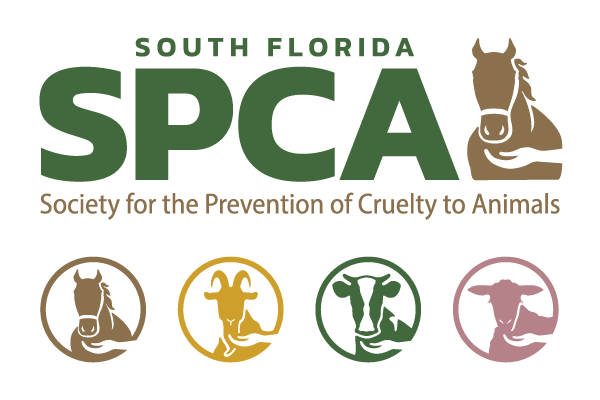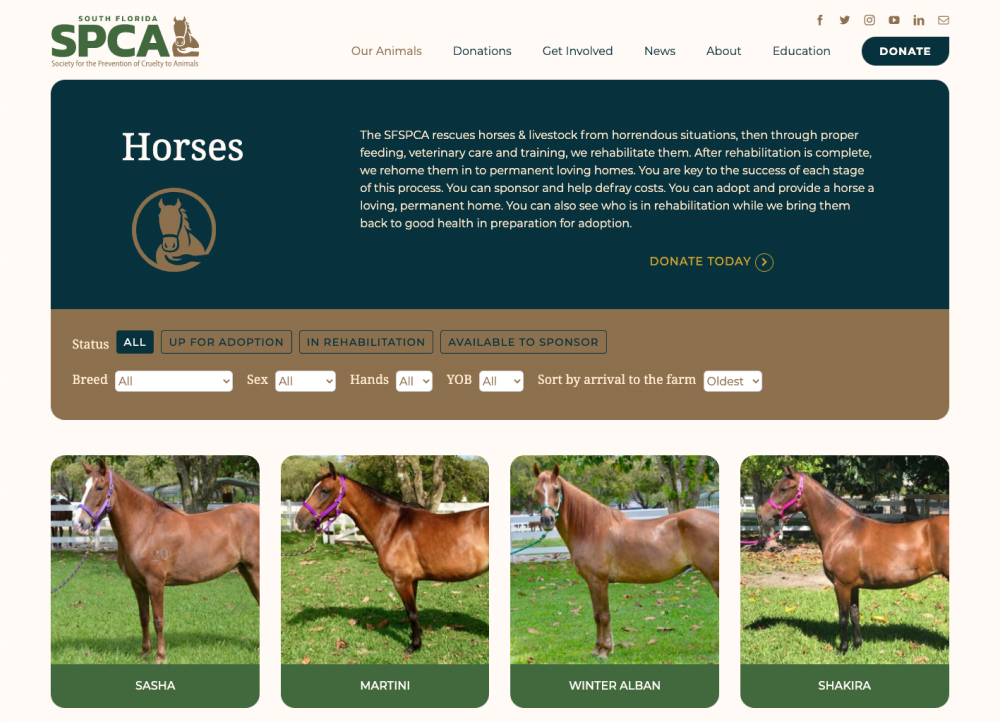 Horse search, livestock information & heartfelt images make it easy for users to help.
The new website uses advanced filtering functionality allowing adopters to easily match their preferred specifications with their next four-legged family member among the adoptable horses.
Incorporating information about the cow, sheep and goat herds enable the SFSPCA to educate the public about the different species of animals the organization continues to find neglected and abandoned around South Florida's agricultural areas.
The use of imagery throughout the site engages the audience and serves to spur them into action, which hopefully ends in acquiring membership, adoption or a donation.
horse search with user-end filters
filters for breed, age, sex, height and rescue date
livestock herd information alerts users of expanded mission
animal care education shows the breadth of the SPCA's vision
animal icons visually illustrate the organization's rescues
graphic-centric layouts stir emotion and keep users engaged
ranch images help visualize needs and provoke user interaction
rounded elements portray organic nature of industry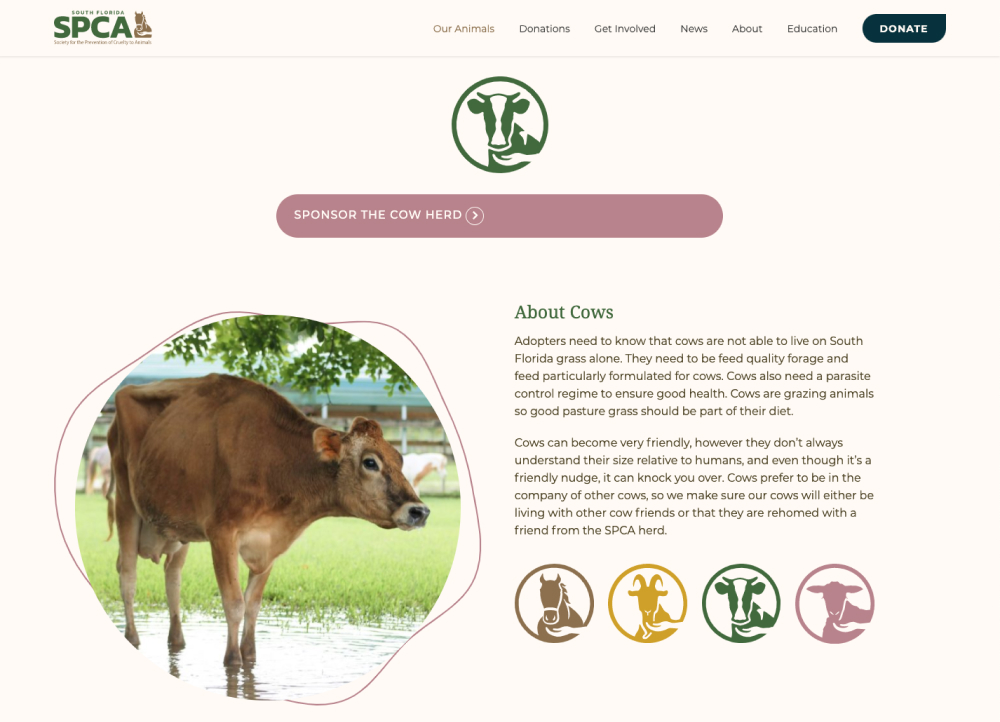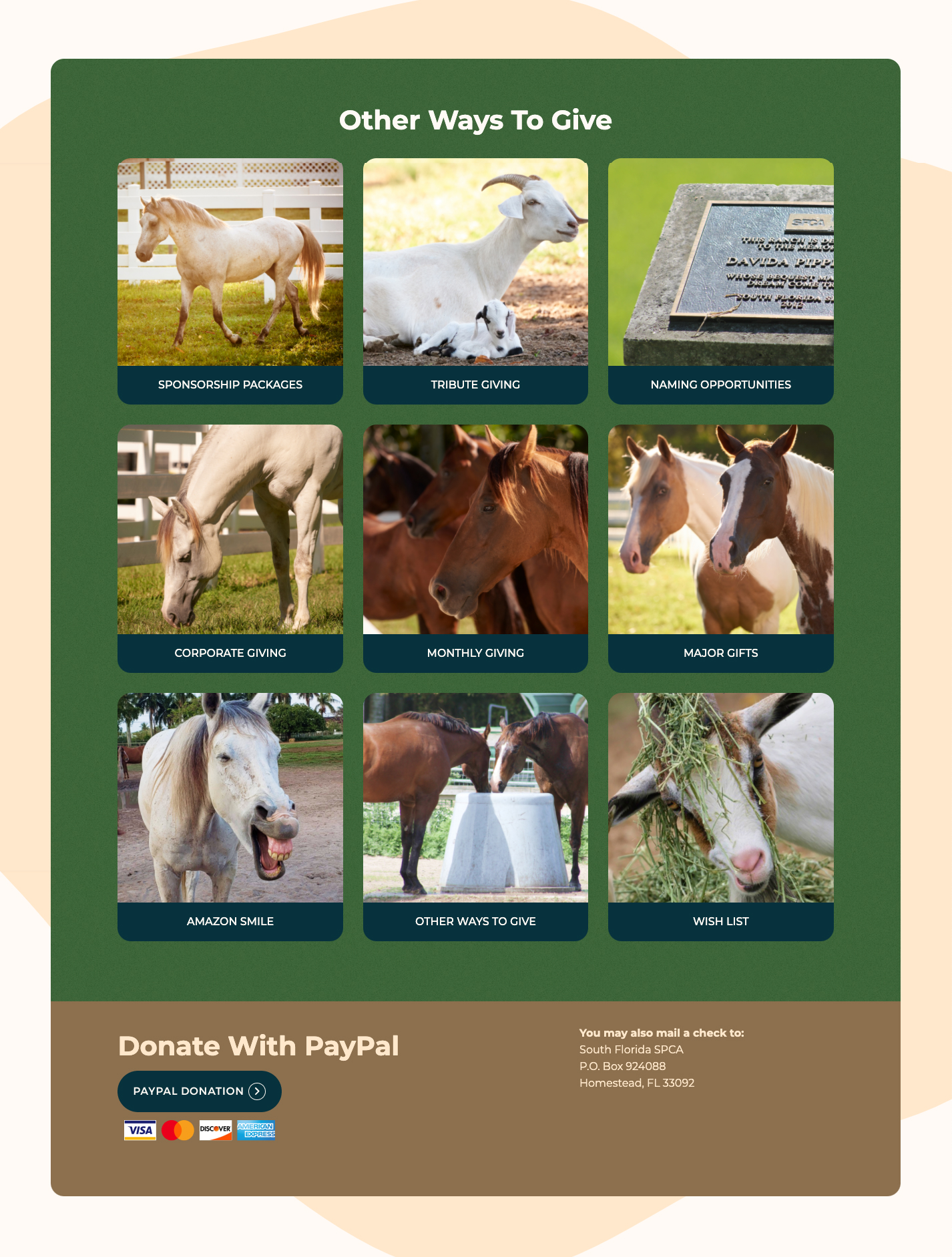 marketing solutions
community involvement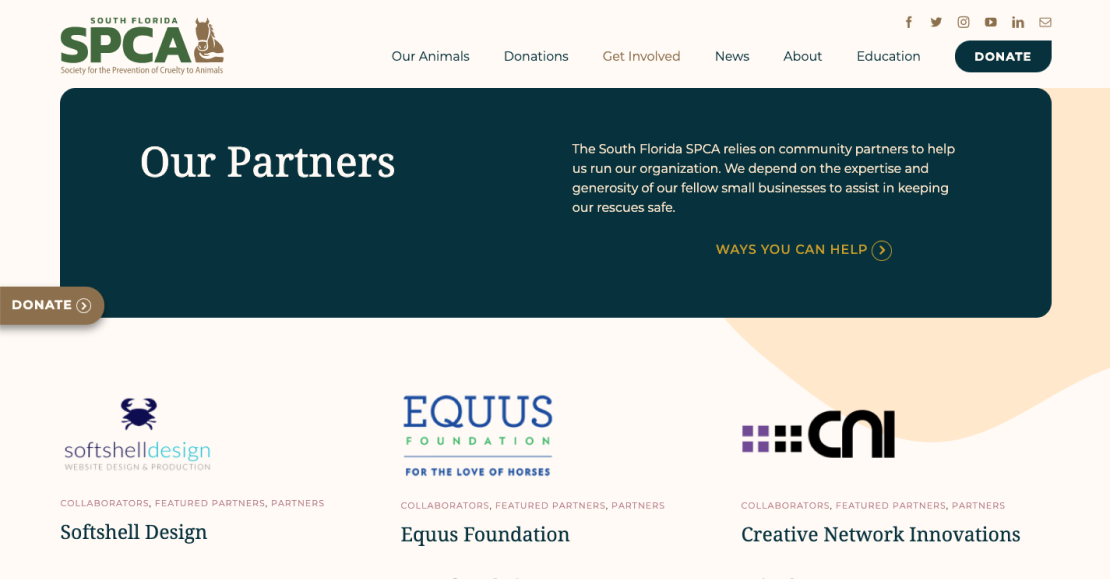 Photography taken at the ranch invokes volunteer participation and advertising local partners promotes community engagement.
Softshell helps to develop your marketing strategies so that your organization serves the purpose intended. Portraying the satisfaction and compassion of volunteers encourages user involvement.
Giving local partner organizations exposure shows the dedication and consideration the SFSPCA endows to both its collaborators and prospective donors. This promotes community participation and local connections.
market volunteer jobs
imagery portrays volunteer love
easy list of volunteer orientation dates
step by step how to become a volunteer
highlight community partners
market collaborators for local networking
reciprocal links to accreditations for exposure
internal links to further membership

software solutions
boost functionality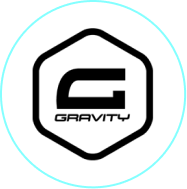 Gravity Forms
Adoption application entries can now be managed and stored in a trusted & protected environment for easy reference. Encrypted forms, excellent support and years in the industry made working with Gravity Forms a simple choice.
The move from paper to digital was long overdue. It will undoubtedly be a major benefit and convenience to the staff at the South Florida Society for the Prevention of Cruelty to Animals.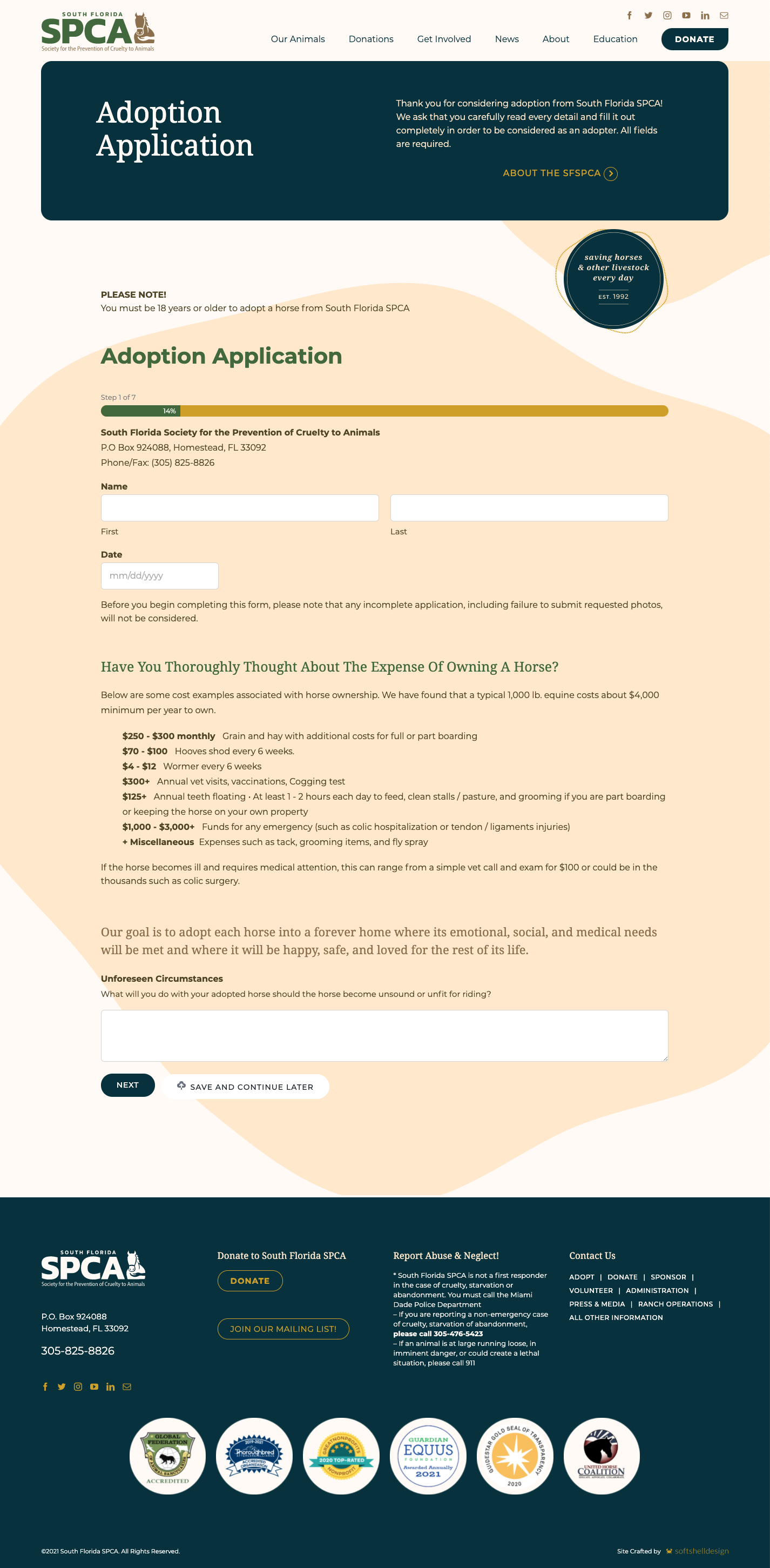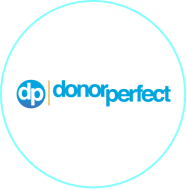 DonorPerfect
Incorporation of DonorPerfect forms allow users to donate safely and securely directly on DonorPerfect's servers, eliminating the need for the South Florida SPCA to retain PCI compliant hosting.
DonorPerfect's integration with Constant Contact also enables the non-profit organization to have a direct link between their donors and their newsletter subscribers.
social media solutions
facebook & instagram graphics

Branded Post and Page Templates
Softshell Design supplied the South Florida SPCA with social media templates and graphic creation options within their new brand book. Consistent messaging and imagery is essential to forming a cohesive brand.
Facebook hero and icon design
Instagram story icons
Instagram post templates
Instagram feed styling
Post messaging and content samples