jessica@softshelldesign.com
Hello, my name is Jessica Santa-Cruz and I am the Owner and Art Director here at Softshell Design. I wanted to take the time to introduce myself and to let you know a little more about me and my business.
I would be remiss if I didn't immediately mention my right-hand woman, Lucía García. Softshell and I would not be where we are today without her joining us almost ten years ago.
She is an integral part in most facets of the business. I look forward to sharing more about Lucía in the future, but this post is more about me – Consider yourself warned.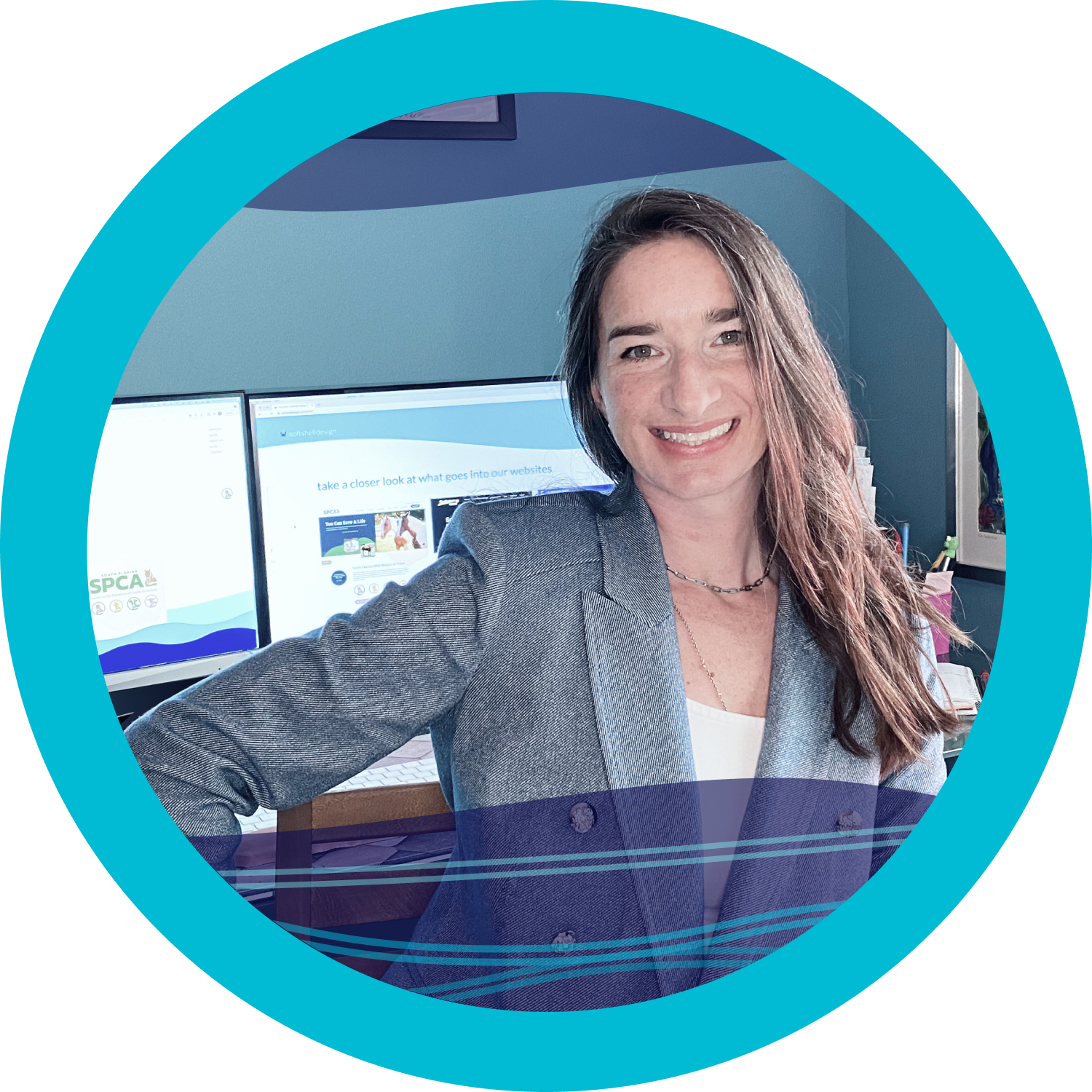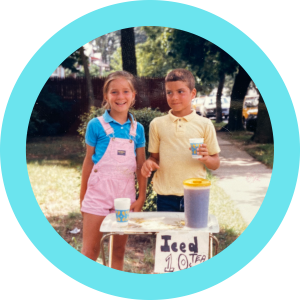 Queens
I am a native New Yorker, and proud of it, like most NY transplants down here in South Florida.
Young entrepreneur
I was born in Queens and grew up alongside my twin brother, Charlie. I have always been a tomboy, so seeing me among a group of boys trying to hold my own, was the norm back then.
We didn't have a lot of money, so I learned quickly to do chores and anything I could to earn some cash. Here you see Charlie and I selling iced tea on the corner – raking in the dough at 10 cents a pop!
Upstate New York
In fifth grade, my parents moved us to a little town called Central Valley in the lower Catskill Mountains, 70 miles north (just north of Suffern for all my New Yorkers out there).
School
At eleven years old, every Sunday, I began to babysit a little boy while his mother worked an 8-hour shift, earning myself the sum of $20. Now we're talking! I liked the feeling of working to earn my own savings and becoming independent. It was from that time on that I continued to work many a job during my school years to buy and pay for things myself. By the time I began college, I was used to juggling sports, education, and work.
College
I commuted to SUNY New Paltz enjoying my classes while working full-time. I was thankful for my graphic design education but was eager to graduate and get my degree so that I could move out and concentrate on working in my field. At that time, the internet was just emerging and only one class within my major focused on web design.
I knew I needed to get into the workforce to really learn this new skill, which supposedly could be done from the comfort of your home! That sounded very appealing, especially since I hoped to also have a family of my own one day. How fortunate I was to have been a part of this fascinating and revolutionary way of communicating and doing business. The internet had already begun to lessen the "distance" between us worldwide!
Out in the World
Since graduating in 2000, I have been creating and producing websites.
Santa Fe
I moved to Santa Fe for a short time after college and met many talented individuals in the tech industry, some of whom I still collaborate with today. After only a year, my yearning for a faster pace took me to South Florida, where I already had extended family.
Miami
I moved to Miami just before 9/11 and immediately began working with a small web firm. At this company, I was eager to be a part of all the aspects of the business and did my best to learn all I could. As fate would have it, the stars must have aligned that day, because I was lucky enough to be seated right next to the best partner I could have asked for, the programmer. He, Ivan, would also become my best friend and later my husband (and IT guy). Being in a group of men in technology was no different than how I chose to surround myself as a young child. While being the only female in the room does not intimidate me, I am ecstatic to see that more women are emerging in this industry as times moves on.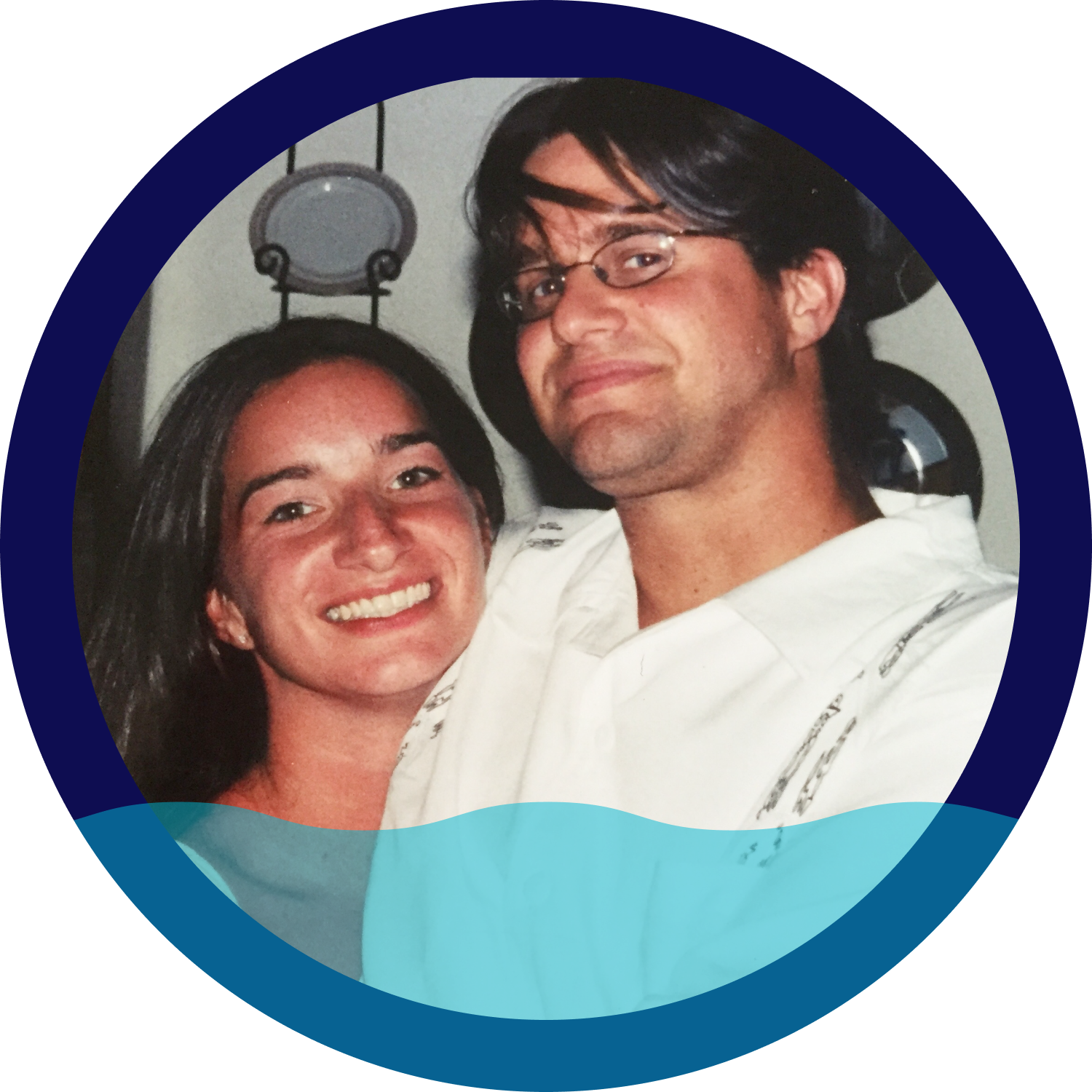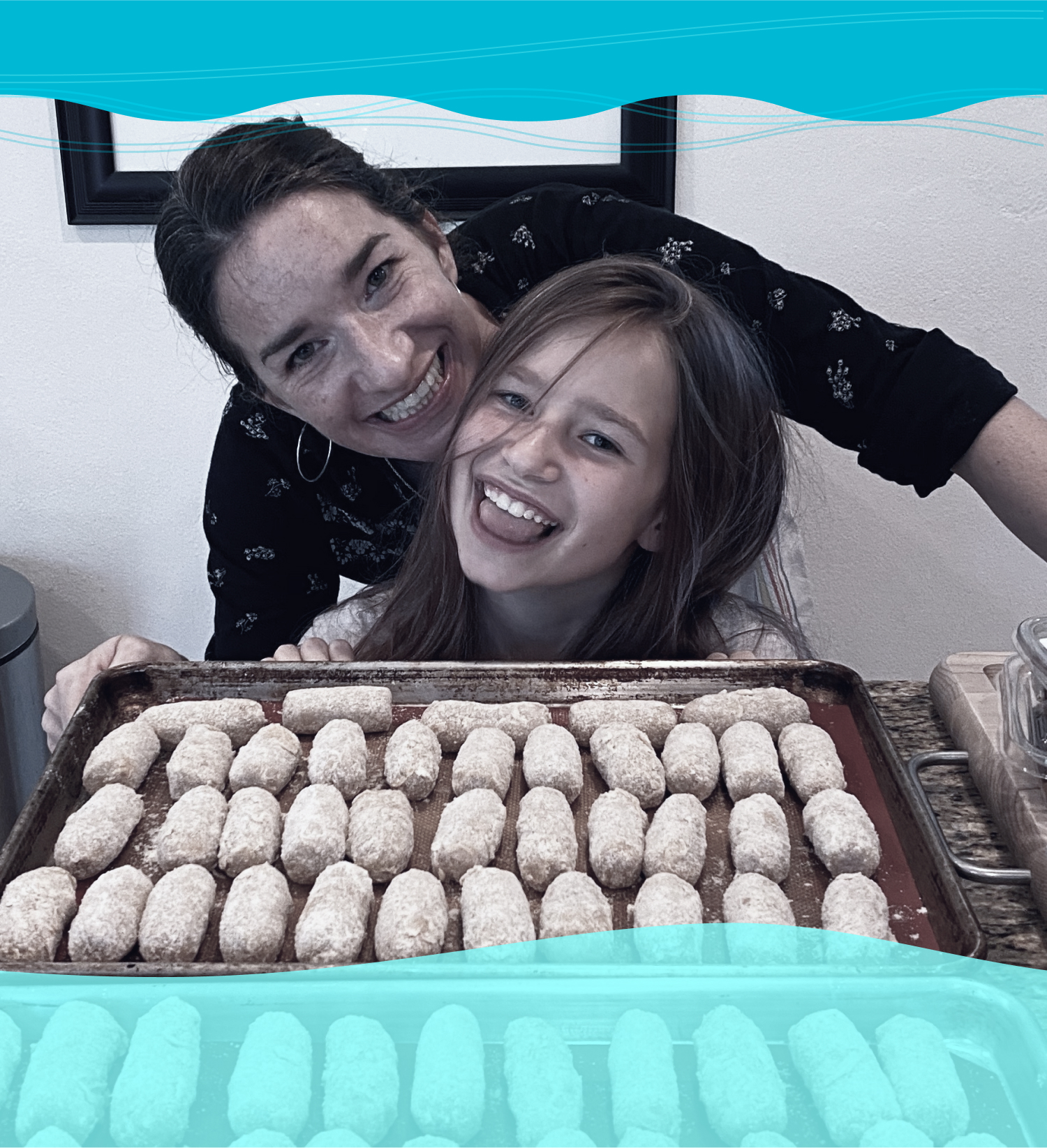 Cuban Culture
Spending time in Miami with Ivan, I also dove headfirst into the Latin (more specifically, Cuban) culture which now surrounded me.
Abuelonga
His grandma, affectionately called Abuelonga, basically took me and my meager Spanish education and helped me learn how to speak the language almost fluently. What a gift, but it was only the second best one she's ever given me. The first being how to make croquetas! If you've never had one, you MUST give it a try next time you are in Miami, although it probably won't compare to the ones Aba made. Here I am with my daughter Eva, many years later, carrying on the tradition.
Softshell Design
In 2007, I moved out on my own and founded Softshell Design.
Not completely coincidentally, we were also going to have our first baby, so working out of a home office would be convenient if nothing else. Always grateful for my network, I continued to collaborate with existing contacts and clients both in New Mexico, locally, and internationally. I have always been pretty driven and disciplined (thanks Mom!) so working from home was doable. I am also a dreaded 'people-pleaser', but I venture to say that this attitude has assisted me in acquiring and retaining clients over the years. After all, I have the knowledge, skills and ideas, but I work for you!
Many Hats
Fast forward fifteen years (and one more child later) and I am still working out of my home office, now in Palmetto Bay (just south of Miami), and juggling mom life instead of school. It's not much different though – I am careful to divide my time in an effort to succeed in both areas of my life (overachiever – I know). I try to give Lucas and Eva (now ages eleven and thirteen) tools to help them help themselves and this independence benefits us both. For example, making their own lunch allows them to feel self-sufficient and gives me the extra twenty minutes at night to connect with them instead of doing for them. It's not always easy, in fact it's almost never easy, but I reap so many rewards from being dedicated to both home and work life.
A successful small business, a beautiful and capable family, and a feeling that helping other small businesses succeed is at the core of my purpose. I feel good knowing that I am showing my children that moms can kick butt at both their professions AND making dinner!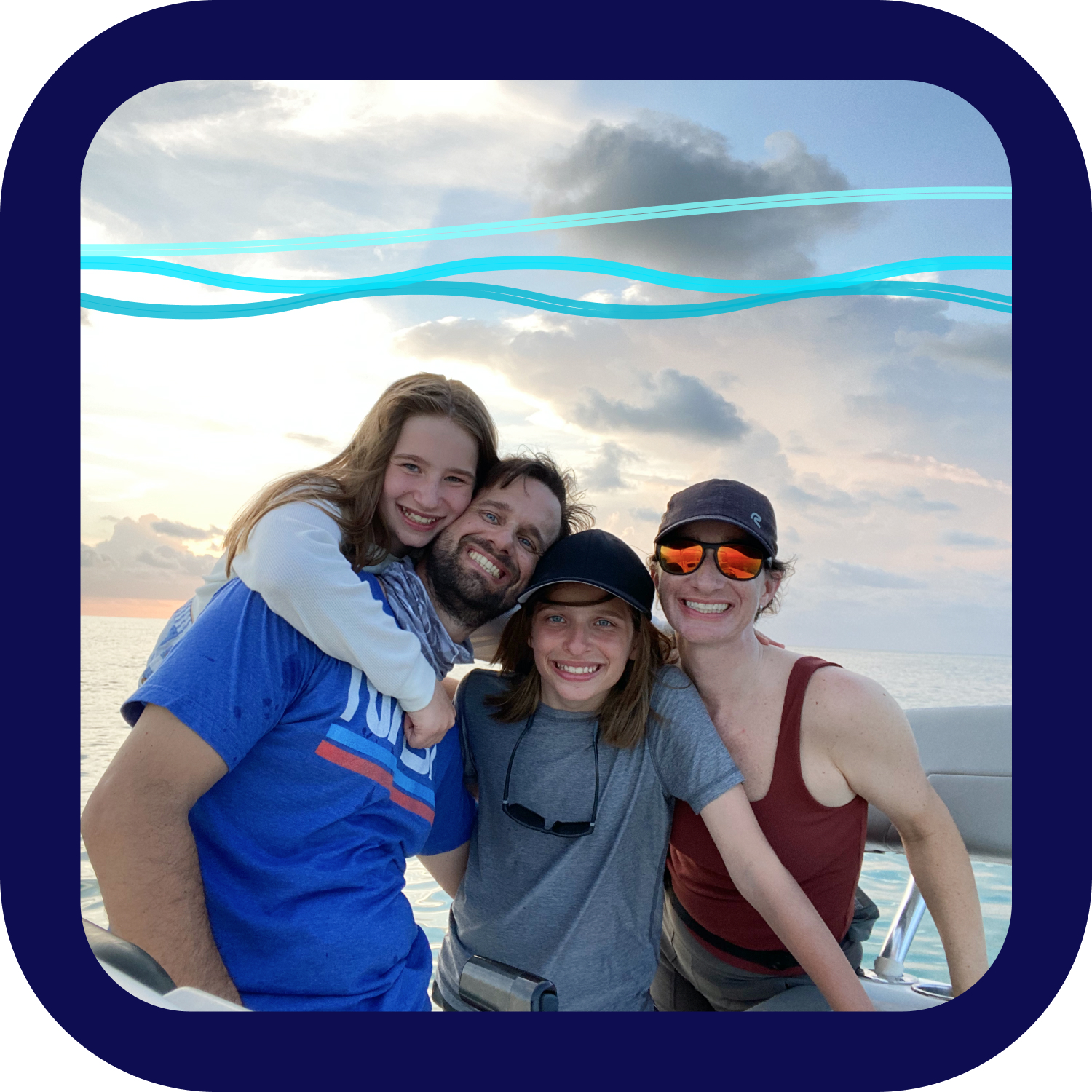 WORK WITH US
I love meeting all kinds of new people and learning about their businesses.
I relish the work of creating tools and designs that will serve growing companies and help them succeed. This job inspires me to collaborate with individuals and small companies to provide the best possible product our teams can produce together. This is our objective at Softshell Design, to give you and your company the marketing tools you need to thrive.