Going Digital in a World of Social Distancing
New Normal Brings New Opportunities
What will the 'new normal' look like for small business entrepreneurs? The days of shaking hands and exchanging business cards may be over, but how can we compensate?
We need to leverage the opportunities available to us in order to increase exposure, clientele and business.
While Coronavirus has had a negative impact on traditional purchasing, online shopping is doing better than ever. Users are not only buying products, they're searching out services, entertainment, and scratching that social itch.
An omni-channel retail marketing strategy (implementing several online avenues for customers to browse your services and/or products with a cohesive customer experience) will yield a greater benefit to your bottom line.
As always, in order to stand out among competitors, your brand needs to have unique representation with a sound foundation. Online users strongly value brand image and identity, ease of functionality and social media activity.
A few things that should be considered when embracing your omni-channel approach are:
Exposure Online
The Right Software
Social Media Networking
Getting & Keeping Followers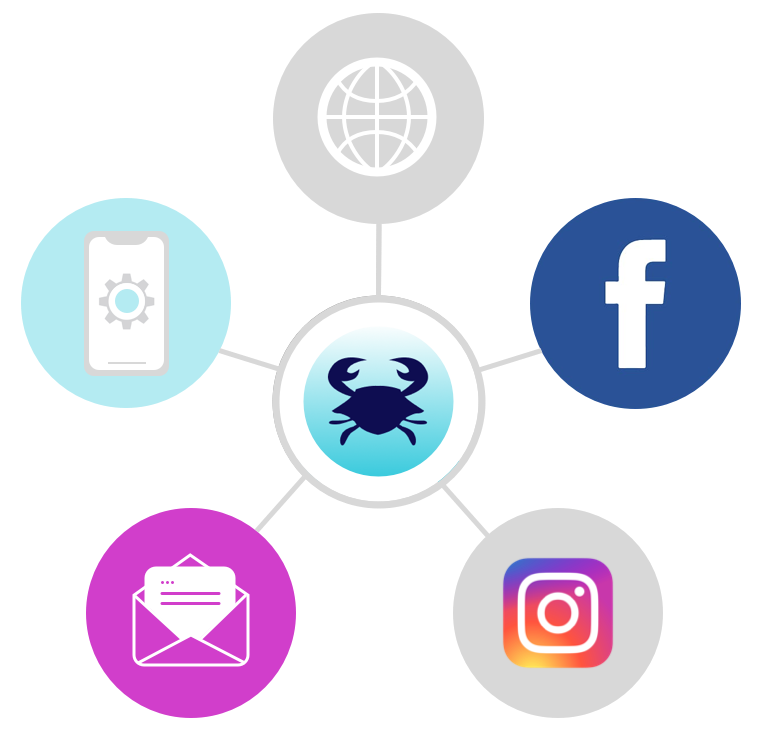 EXPOSURE ONLINE
Whether you are looking to sell a product or a service, the most important way to transition your small business to reach an online audience, is with a professional mobile-first website that delivers. Accompanying social media accounts, apps and printed materials with consistent branding and messaging will create a successful omni-channel marketing approach.
Custom & Innovative UI/UX Design
A distinctive design and professional brand will help to solidify a customer base and increase your return on investment. Consumers rely on the brand image of your site to be unique, consistent, concise and attractive. Your brand speaks to your audience and if you don't take the time to develop something inspiring, you will lose users.
Quality Content
When gathering and writing content, be sure to take the time and effort to properly and thoroughly describe your business and its services. Remember that search engine robots read the text on your site in order to get to know your business. It is imperative that your copy use terms and syntax particular to your industry in order to improve your chances of being found online via organic search engine optimization.
Easily Maintained In-House
Your website, ecommerce store and/or app should incorporate seamless functionality for ease of maintenance so that you can concentrate on your passion rather than struggling with poor design.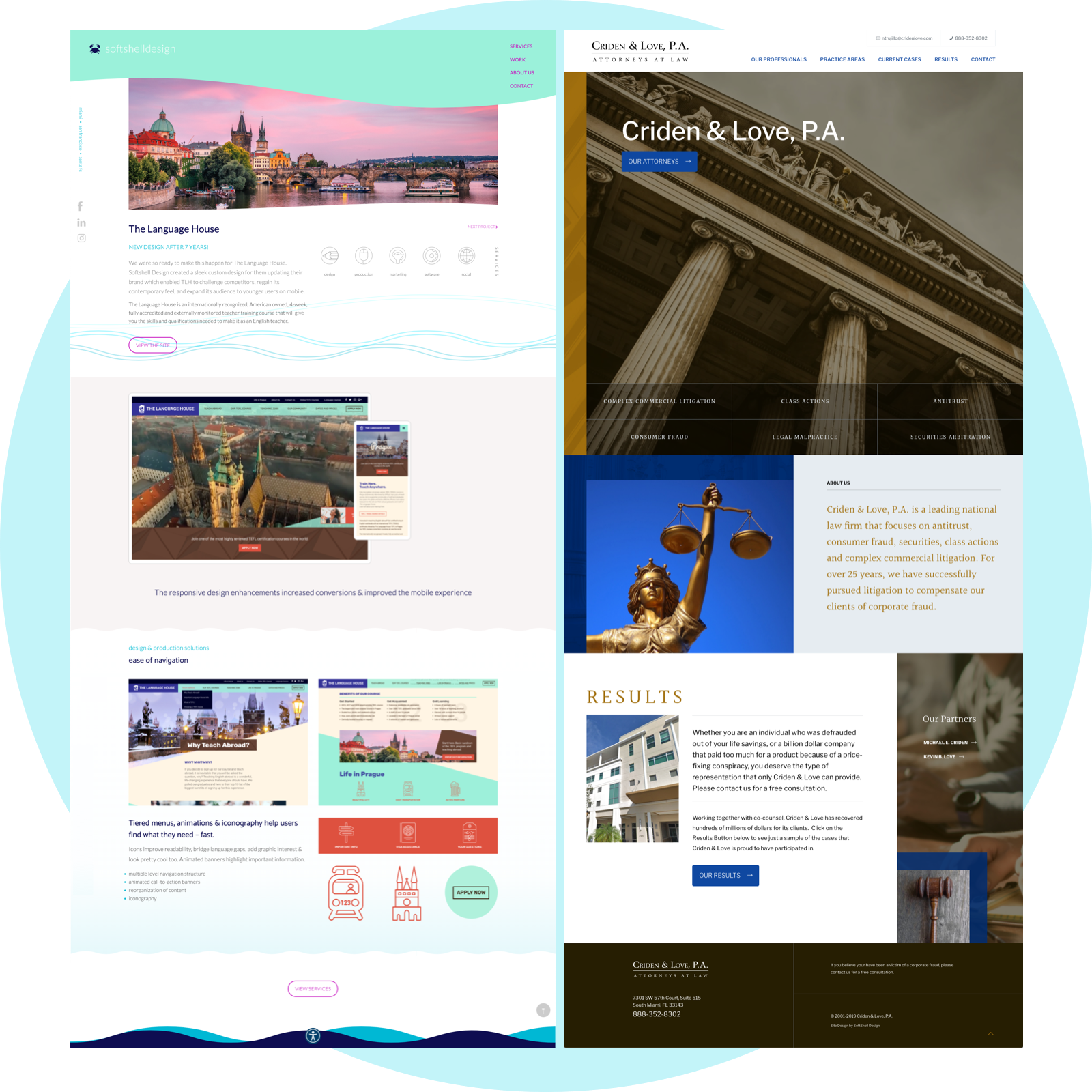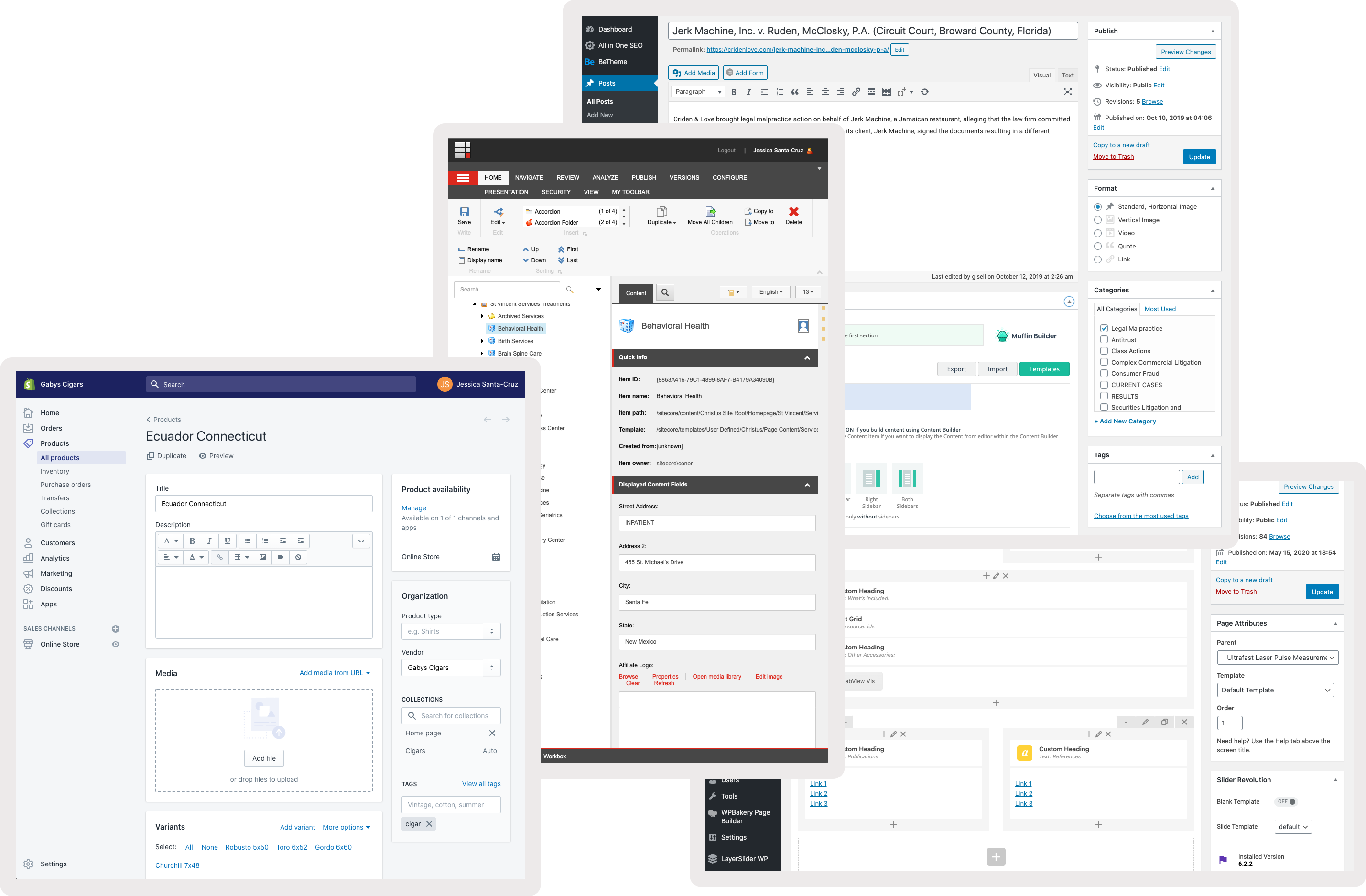 THE RIGHT SOFTWARE
In order to fully flesh out a digital marketing campaign, the right software is necessary so that you get the most out of your investment. Depending on the size and existing budget of your business, you may choose to implement your omni-channel strategy in phases.
Content Management System
The CMS best suited to your company will depend on the functionality needed both internally and externally. Software is tailored to the specifications of different clients and in most cases, there is a solution out there that will fit your needs. Whatever option is chosen, analytics and reports are necessary to help you gauge where your site needs improvement or enhancement in order to increase profit.
Integrations
It's extremely important to consider any existing requirements before ascertaining the best platform to build your website. For example, if you need an ecommerce site and want to use the same payment processor as your brick and mortar storefront, that can help to wildly narrow your choices and facilitate management of your inventory and sales. If you want your online forms to automatically add users to certain newsletter subscriber groups in order to reduce the time invested, there are out of the box integrations which can ease this.
SOCIAL MEDIA NETWORK
Social media platforms may be our best option for networking in the future. It has become a legitimate and respected avenue for marketing. With almost half of today's buyers searching for products/services via social media, now is the time to take advantage of these marketing channels for greater exposure.
Facebook
FB has 1.13 billion daily active users and is intended for connecting with friends. When friend's comment and like (or even better – love) your posts, they stay active on timelines which could allow for a longer period of exposure. The FB audience is more advanced in age than Instagram, so you are reaching a different demographic. FB can be used to promote your brand, market your services and to sell your products.
Instagram
Instagram also enables your business to promote its brand as well as market its services and products. IG has 500 million monthly active users and has better statics in engagement and sharing than FB. Users follow businesses and pages that are not friends and they expect to see your business post to tout success or products via this avenue.
LinkedIn
LinkedIn is an outlet for professional networking and the perfect platform for posting articles and business updates in order to retain industry relationships. Staying active on LinkedIn encourages collaborative projects with complimentary businesses.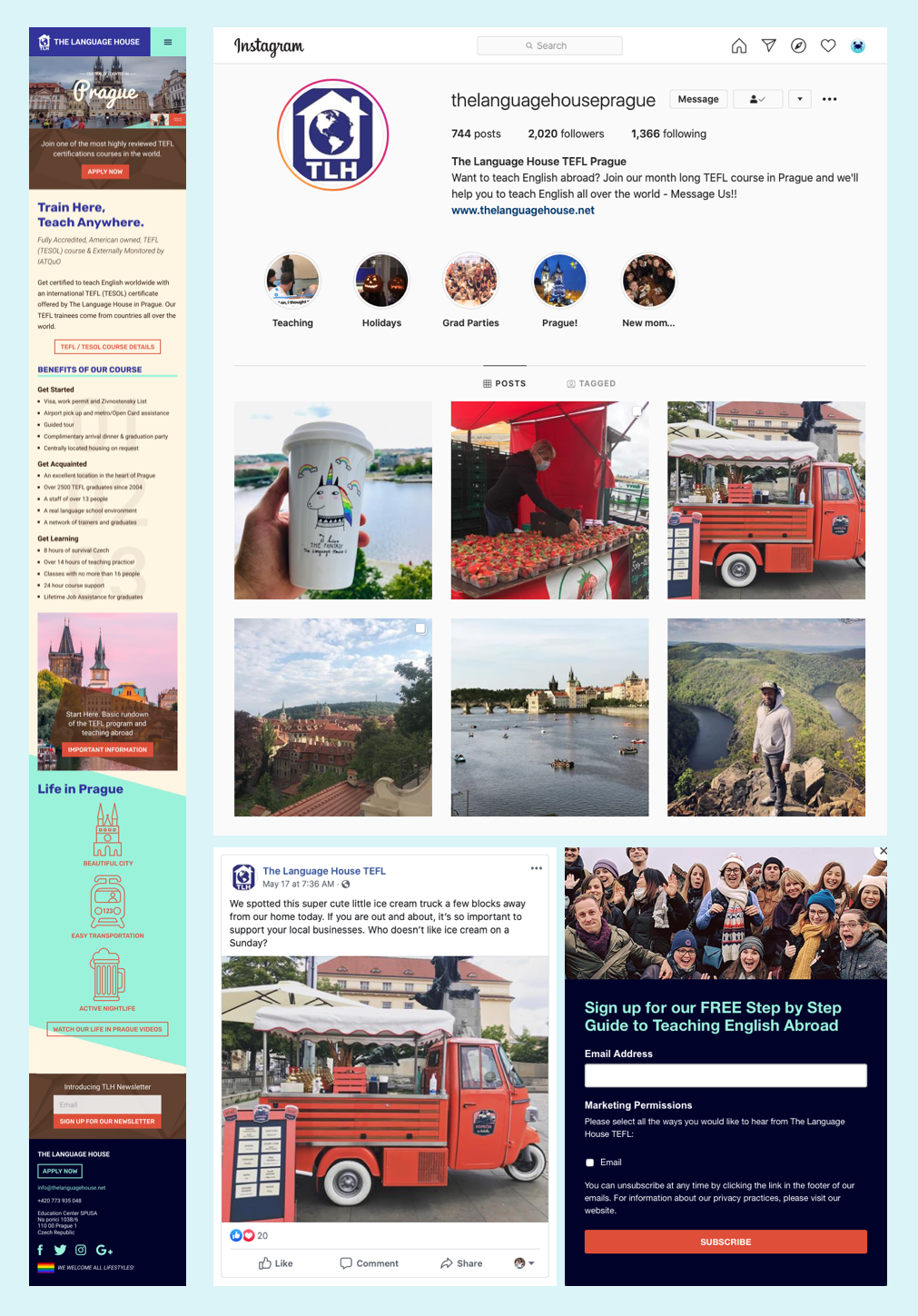 GETTING & KEEPING FOLLOWERS
Consistent and relevant content that is reliably posted creates a relationship with the consumer that builds loyalty.

Subscribers
Compiling subscriber lists from users that have opted in to receive your digital communications is the first step. More importantly is the need to develop consistent email marketing campaigns that continually spur involvement from your subscribers. This avenue opens doors to increased exposure with which to market sales promotions.
Personalized Communication
Paying attention to specific consumer needs and creating a personalized communication through social media and website customer groups will help to boost participation. Consumers want to feel that they are special, and your communication should make them feel first and foremost, that they have been considered.
Consumer Engagement
Boost your clientele by incorporating subscriptions, reviews and writing blog posts that allow for comments. Create newsletter campaigns with eye-catching graphics to bring users back to your site. When needed, chats and support options can be integrated into your website to help assist users in order to ensure a positive customer experience.
Basically it all comes down to the fact that UI/UX design which is bulky, hard to manage and difficult to navigate will result in a high bounce rate for your site.
If you want customers to engage and interact with your business online, it is absolutely essential to invest in a solid brand image, responsive website and omni-channel experience which will create the foundation for success in this new normal.
Simon Cooke, managing director of full-service digital agency BozBoz, states it succinctly when he says, "The point is, what you do now will set your business up for stability and success in the future."
More people than ever are online at home. Take advantage and contact us to begin developing your new brand, website and omni-channel marketing plan today!